Formalities On-Line
Press releases
O ránking CWTS Leiden destaca a produción científica da USC en matemáticas e ciencias da computación, biomedicina e ciencias da saúde, Vida e ciencias da terra
Published: 21/5/2015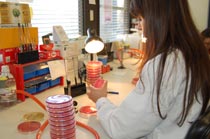 Segundo a edición 2015 do ránking CWTS Leiden, a Universidade de Santiago sitúase no posto 334 de entre 750 universidades de todo o mundo pola súa produción científica entre os anos 2010 e 2013. Esta clasificación basease exclusivamente nos datos bibliográficos procedentes da base de datos de Web of Science que produce Thomson Reuters. Concretamente para a súa elaboración utilízanse os datos de Science Citation Index Expanded, do Social Sciences Citation Index e do Arts & Humanities Citation Index.
Máis información: Xornal da USC
Note [pdf - KB]
Un equipo gallego halla el origen genético de la calcificación cerebral
Published: 5/5/2015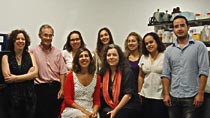 Los investigadores hallaron otro gen, el XPR1, no conocido hasta ahora, que causa calcificaciones cerebrales hereditarias. Su función consiste en el transporte de fosfato de la célula hacia el exterior. «Por lo tanto, participa en el mismo proceso celular que otro de los genes previamente conocidos en esta enfermedad, lo que confirma que mantener un adecuado balance de calcio y fosfato es un elemento clave para el bienestar de las neuronas, mientras que un equilibrio incorrecto de estos elementos conduce al acumulo de depósitos de fosfato cálcico», explica María Jesús Sobrido, coordinadora del área de Neurogenética en la Fundación Pública Galega de Xenómica y el Instituto de Investigación Sanitaria de Santiago (IDIS). En el trabajo también participaron los investigadores del mismo equipo Beatriz Quintáns, Ángel Carracedo y Cristina Castro.
Más información: Xornal La Voz de Galicia
Note [pdf - KB]
CIQUS
Prof. Mascareñas receives the Gold Medal of the RSEQ, the highest recognition of Chemistry in Spain
Published: 4/5/2015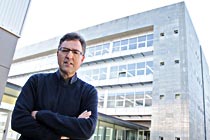 CiQUS celebrates the awarding of the Gold Medal of the RSEQ to its Scientific Director , José Luis Mascareñas. This award is the highest recognition of the scientific community in the field of chemistry in Spain.
More info: Blog CIQUS
Note [pdf - KB]
Distribution list
The vicechancellorship sends information of interest for researchers through the Distribution list

This Web also has at your disposal a RSS channel where you can find the lastest updates.